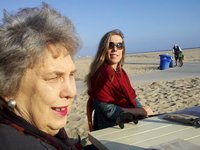 Patricia "Pat" Donlin
Patricia K. Donlin (Pat) our Beautiful Mother enjoyed life to the fullest every day!! Patricia's day was enjoyed with her children enjoying an Italian meal, celebrating President Obama's speech, watching and discussing a movie. Patricia died without warning surrounded by her adult children and her daughter in law at age 83 years young on Wednesday, January 11, 2017 at her home, in La Crescenta CA.
Patricia was born in 1933 to Dominic & Angela of South Bend, Indiana. Pat grew up and graduated in 1950 from Central High School in South Bend IN.
Patricia attended Purdue University in West Lafayette, Indiana where she received a Bachelor of Science Degree in Pharmacy in 1955. She worked as a Pharmacist with South Bend Memorial Hospital,
Glendale Memorial Hospital, Von's Supermarket Pharmacy, Tom's pharmacy, and several small pharmacies in medical buildings.
In 1958 Patricia married Thomas J. Donlin in South Bend, Indiana and embarked on 39 years of adventure and happiness until Tom's death in 1997. Patricia felt she was still married and she lite her anniversary candle every year for 56 years.
Patricia was very active in AAUW Glendale and Altrusa International Glendale. She loved learning in her ancient civilization and music courses with the Life Time Leisure Learning classes at Glendale Community College. In her youth she was involved with ZB Falcons her local Polish youth group and St. Casmiere Polish Catholic Church.
Our Beautiful Mom Patricia Donlin was preceded in death by her wonderful husband Thomas J Donlin and several family dogs Cookie, Sandy, Shadow, Otto, Stella, & Jack.
Patricia Donlin is survived by her children: John of Pasadena, CA; Katie (Holly) of San Bernardino, CA; Anna of Silver Lake, CA; Jeff of Oxnard, CA; and Ellen (Todd), Grand Children: Jessica, David of Hailey, Idaho.
Brother in Law Jerome Donlin of St. Paul, MN.
Cousin Flo Diaz of Santa Barbara, CA and Cousin Tom Balukiewiz of South Bend, Indiana.
Nieces: Kathleen Cleary St. Paul MN; Kathi Balukiewiz Russel, South Bend IN; Karen Balukiewiz Ogden South Bend, IN; and Casey Jo Donlin of Manchester, Iowa.
Nephew: Edward Cleary, St Paul M and Clancy Donlin of Redmond, WA.
Sister in Law: Pat Donlin of Seattle, WA
Cousin Ron Mikulay (Stephanie) Jaden (grandchild)
Niece: Desiree Donlin of Seattle, WA and Savannah Donlin of Seattle WA
February 1, 2017 Visitation & Rosary at Crippen Mortuary 2900 Honolulu Ave, La Crescenta, CA 91214 (818) 249-6131 The family will be greeting friends and relatives from 3pm to 7pm. Rosary at 7pm.
February 2, 2017 10:30am Funeral Mass at St. James the Less Catholic Church 4625 Dunsmore Ave La Crescenta. Burial will follow at the San Fernando Mission Cemetery 11160 Strandwood Ave, Mission Hills, CA.
In lieu of flowers the family requests memorial donations be made to:
AAUW Glendale Branch www.glendale-ca-aauw.ca AAUW Glendale PO Box 887 Glendale, CA 91209
Altrusa International of Glendale www.altrusaglendaleca.com PO Box 1364 Glendale, CA 91209