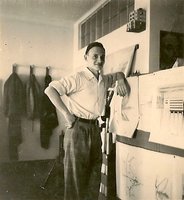 Guglielmo Davide ""Bill"" Dadomo
The Story of Guglielmo Davide Dadomo
Guglielmo D. Dadomo was born in Santa Stefano, Italy on August 3rd, 1932 to Dante and Erminia Dadomo. He would grow up to be a great engineer, architect, artist, beloved husband and father. Guglielmo, known as "Bill", was loved by and loved everyone he met.
After serving in the Italian military, Guglielmo took the biggest leap of his life. In 1955 he boarded a large freighter and moved to the United States. This was the beginning of his proud American dream.
The United States Army would draft Guglielmo in 1956. He learned English from the Southern military boys at Fort Benning, Georgia – a story that would make a great plot for a comedy. Despite the language barrier, he made good friends (and some extra cash sketching pictures of his Army buddies' girlfriends). He was honorably discharged in 1958.
He would then venture to Chicago where he would work for a large architectural design and engineering firm. His designed the International Business Building on the Notre Dame campus and part of the Sears Tower.
Guglielmo loved the country that welcomed him and would become a United States citizen in 1961. Shortly thereafter he would meet the love of his life, Dorothy Jane Schedler, and they were married six months later.
In 1973, Guglielmo and Dorothy welcomed Dante Gregory. As a family, they moved west to La Canada/Flintridge, California in 1975. Guglielmo worked at the Los Angeles County Sanitation District for 22 years. Upon retirement, he spent his time enjoying family trips, gardening, making new friends while working in the yard, reading voraciously, creating amazing art and spending time with the family he loved.
Gugliemlo passed away on March 29th, 2017. He is survived by his wife of 55 years Dorothy and his son Dante, sisters Sandra and Maria, and many beloved nieces and nephews.
You were an amazing person and lived an amazing life.
We will all miss you.