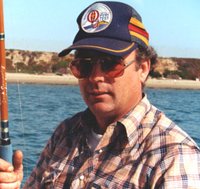 John Edward Connolly
John (Jack) Connolly, a mechanic who served the La Canada/La Crescenta area for over 50 years, died Tuesday March 21st at his home in La Canada. He was 70.
Jack was born June 6, 1946 in Brooklyn, NY to Pauline & Edward Connolly.
In 1957 his family moved to Plattsburgh, NY where he grew up. Jack always liked working with his hands and repairing things from an early age. During his teenage years he started working on cars with his Uncle Walter and after he graduated from Plattsburg High School in 1964, he enlisted in the US Army.
Jack served in the Army for 3 years, where he worked on trucks, tanks & other military vehicles. In 1967 Jack was stationed at Fort Ord, CA where he met his future wife, Kathy. They were married in La Canada in July of 1969.
Jack started his mechanic's career with Southern California Edison, fixing their fleet of vehicles. In 1971 he opened his own auto repair shop, "Jack's Auto Service" and served the people of Montrose and the surrounding area for 25 years.
In 1996 Jack went to work for the United States Postal Service at their Vehicle Maintenance Facility in Pasadena CA were he worked until the time of his death.
Jack was an avid reader & had many hobbies including: Gardening, Fishing & Hunting. He was also an adult leader with the Boy Scouts of America at Troop 507 in La Canada for many years.
He is survived by his wife of 47 years, Kathy Connolly, his children Patrick & Thomas & his younger brother James Connolly.
A Memorial Mass will be held at Holy Redeemer Church in Montrose at the end of April.
In Lieu of flowers please make a donation to the Vietnam Veterans Association or Veteran's Organization of your choice in Jack's name. Funeral Directors: Crippen Mortuary