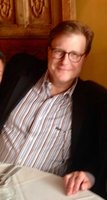 John Robin "Johnny" Saltzstein
John Robin Saltzstein
05/16/1959 - 05/07/2017

John Robin Saltzstein, age 57, passed away at his home in Glendale, California surrounded by his husband and his brothers, following a brief illness.
Johnny was an intellectual man who was a voracious reader of books and read the newspaper cover-to-cover every day. He also enjoyed doing the crossword puzzle, Sudoku, and Jumble, in pen, daily.
Johnny appreciated music and the arts and enjoyed going to both live and cinematic theatre frequently.
He is survived by his husband of twenty three years, Joseph Quinn as well as his brother Daniel (Dawn), Tom (Kim), a sister-in-law (Beverly), brother-in-law (Tom), step siblings as well as nephews and a nieces.
Johnny leaves behind many friends and co-workers for whom he was a positive influence as well as a mentor.
In rememberance of Johnny the family requests that donations be made in his name to the Camp Nebagamon Scholarship online at www.cncharities.org/cnsf/support/ or by mail to CNSF, P.O. Box 331, East Troy, MI 53120 (check memo line in memory of Johnny Saltzstein).