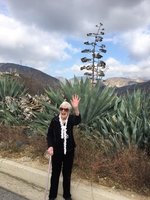 Celeste Helen Frances "Cessie" Havey

1916 - 2017 Celeste "Cessie" Havey

How do you sum up 100 years of living in a single paragraph! Celeste Havey has been a resident of LaCanada for well over 60 years. She passed away peacefully on October 15 in the comfort of her own home. This one amazing woman is the Matriarch of a family that includes 8 kids (who appeared on the front of the Mother's Day edition of the Valley Sun circa 1959), 15 grandkids and 9 great-grandsons. Cessie worked until the age of 75 (yes 75)…and upon retiring started a volunteer job at Descanso Gardens. Her biggest achievement was having the ability to live her life to the fullest…trips to Baja every summer to enjoy margaritas and fish tacos with family and friends. Even at her current age she could squash you at a game of Hearts or Mexican Train…growing up it was Friday night bridge with the "ladies". The life experiences that she has lived through amaze our family from hand crank cars to self driving cars! This one woman has touched the hearts of all that knew her, she has truly left her mark on many. Cessie could make you laugh with her clever and witty sense of humor or entertaining stories. Our family is grateful for her example of how to live life to the fullest with strength and courage! From the beginning of her journey to her very last breath, our Mom, Grandma and Gigi did it "her way"…We all love you more!