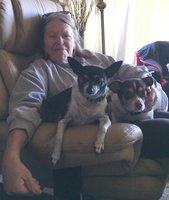 Harriet Ginsburg Ryden
Harriet Ginsburg Ryden, went home to be with her loved ones. Mrs. Ryden passed away at her Residence in Tujunga, CA on the 21st May, 2018.
Harriet was born 13th Nov, 1949 in Pennslyvania to the Parents of Abraham Ginsburg and Betty Ruth Bull both of which were Pennslyvania natives.
During her time here with us she accomplished getting her Bachelors Degree and helped many others during her time working in Retail.
Mrs. Ryden leaves behind a Husband Victor Ryden and 2 daughters Miriam and Rebecca Ryden.
Family, Friends and Community will miss Harriet and the warmth she brought to everyone she encountered.